Did you know that 82% of children suffer from a toothache while teething?

NO MORE CRYING AND SCREAMING!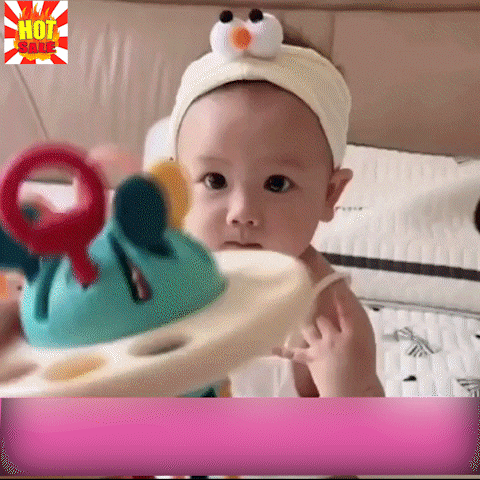 Revolutionary Sensory and Teething Toy keep your baby occupied and entertained for hours, as it:
✅ Relieves the discomfort that accompanies teething.
✅ Soothes your baby's emotions.

It brings a different kind of fun to your baby while building learning skills as well as grasping ability.

🧠 Develops fine motor skills
Revolutionary Sensory and Teething Toys encourage your baby to develop their fine motor skills to exploit the world of educational games.
It is designed in the shape of a UFO to stimulate your baby's imagination.
🧩 Develops hand-eye coordination
Textured strings can be pulled from side to side to allow the baby to
feel various sounds and vibrations.
One side of the Revolutionary Sensory and Teething Toy is equipped with soft buttons to encourage your baby to touch and press, which stimulates the flexibility of little fingers.
The other side is equipped with a button that your child can slide inside the hole
to feel the experience of pressure.
🎨 Encourages color identification

The combination of rich and vivid colors promotes color awareness, attracts your baby's attention, and satisfies their curiosity.
🛡 100% safe material

Revolutionary Sensory and Teething Toy are made of food-grade silicone and super soft ABS, which kneads your baby's gums safely.
It relieves your baby's discomfort and soothes his emotions.
FEATURES :
Materials: Food-grade silicone and ABS, BPA-free, Phthalate-free
Age: + 6 months